November 2, 2023 at 4:06 PM EDT
Fortinet Sharpens Business Focus on Core Growth Areas to Extend Leadership Position and Drive Continued Innovation in Cybersecurity
Concentration on Secure Networking, Universal SASE, and Security Operations markets, including strategic R&D and GTM investments, will accelerate Fortinet's global business expansion
SUNNYVALE, Calif., Nov. 02, 2023 (GLOBE NEWSWIRE) --

News Summary
Fortinet® (NASDAQ: FTNT), the global cybersecurity leader driving the convergence of networking and security, today announced that it is sharpening its business focus to prioritize high-growth, differentiated markets. Effective today, the company's research & development (R&D) and go-to-market (GTM) strategy will be organized around three markets: Secure Networking, Universal SASE, and Security Operations. This evolution underscores and reaffirms the company's commitment to providing value to its customers and fostering a culture of innovation.
"Throughout our over 20-year history, Fortinet's commitment to continual evolution has enabled us to remain at the forefront of innovation that supports our customers in safeguarding their infrastructure and data," said Ken Xie, Founder, Chairman of the Board, and Chief Executive Officer at Fortinet. "Throughout this time, our founding principles of converging networking and security and consolidating point products into an integrated platform continue to reverberate across today's cybersecurity market. Looking forward, we are confident that this is the right time to focus our operations around Secure Networking, Universal SASE, and Security Operations."
Fortinet's existing portfolio of integrated and organically developed products and services has a distinct competitive advantage in these three critical markets, making technology the cornerstone of this strategic shift.
The Secure Networking market is expected to grow at nearly 9 percent annually to $86 billion in 2027. It consists primarily of network firewalls, secure switches, access points, and 5G gateways. As Fortinet's firewall business grows, its revenue for attached AI-powered FortiGuard Security Services is expected to grow as well. As Fortinet's largest addressable market—and one where Fortinet is the leader in both firewall revenues and units shipped—secure networking remains an essential part of its strategy.
The Universal SASE market is expected to grow nearly 20 percent annually to $36 billion by 2027. It comprises SD-WAN, SWG, CASB, DLP, ZTNA, SASE, and other cloud-native networking and security technologies designed to simplify the implementation of a zero-trust strategy. Fortinet is the only company with a SASE solution that can perform all functions in the cloud or in an appliance, all supported through a common operating system, networking and security stack, and management console. Fortinet was recently included in the inaugural 2023 Gartner Magic Quadrant for Single-Vendor SASE.
The Security Operations market is expected to grow just over 14 percent annually to $78 billion by 2027. Fortinet's SecOps platform is the most comprehensive, integrated, and broadest in the industry, providing EDR, SIEM, SOAR, NDR, and additional integrated enterprise-grade cybersecurity technologies to help organizations gain control and insight into their distributed operations.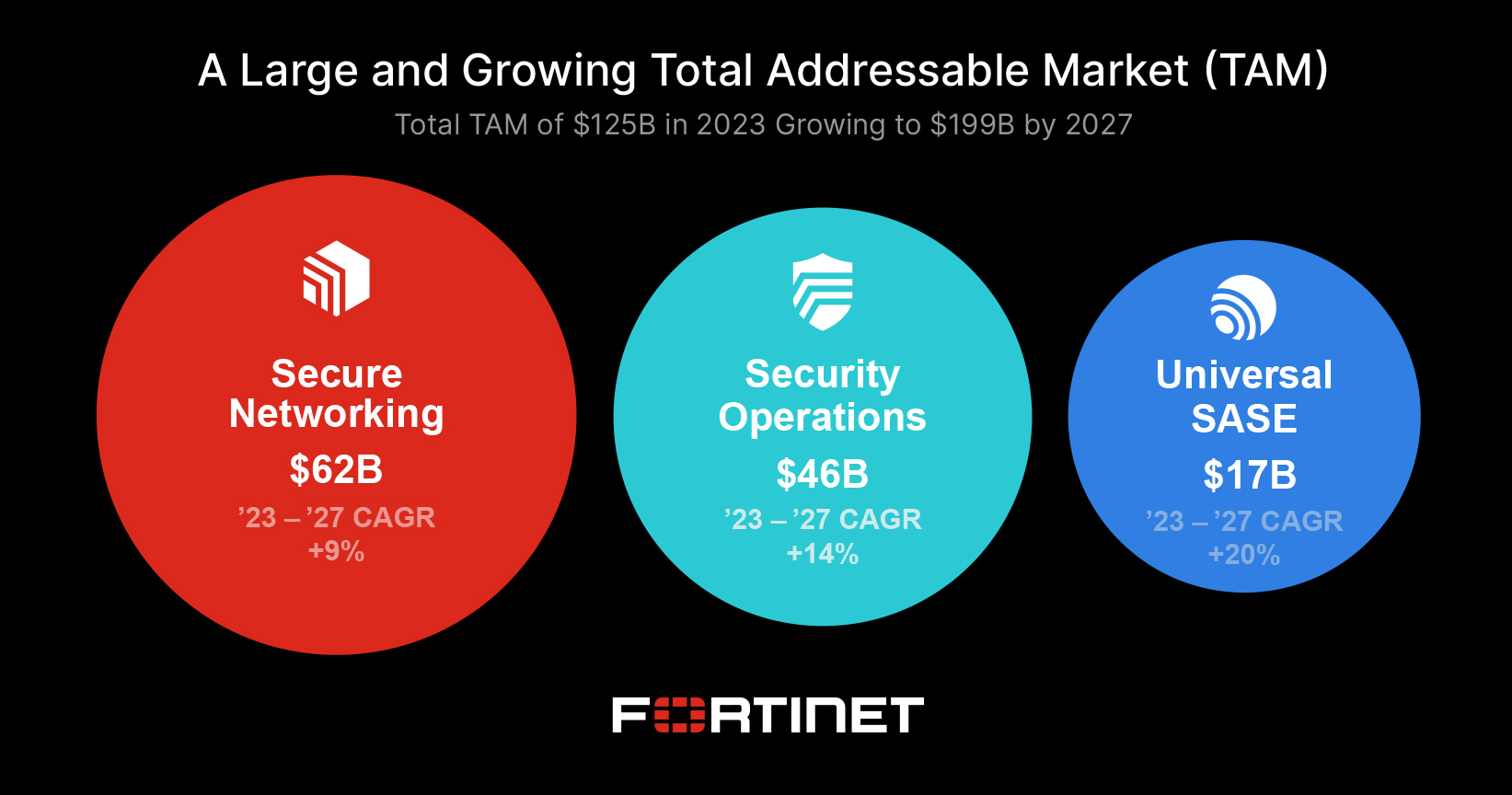 Fortinet is uniquely positioned to deliver Secure Networking, Universal SASE, and Security Operations solutions as integrated platforms underpinned by AI-driven technologies​, unified management, leading threat intelligence, and one of the largest open ecosystems in the industry.
Operational technology (OT) systems differ significantly from traditional IT systems; with that in mind, Fortinet will also continue to deliver OT-aware security capabilities across all three areas, as well as provide OT-specific InfoSec tools, threat intelligence, and integration with third-party OT solutions to reduce risk and effectively secure OT environments.
In connection with re-focusing its technology investments, Fortinet will continue to drive its industry-leading innovation engine through a culture that encourages and rewards innovative thinking. This approach has already resulted in 949 U.S. industry patents—over two times more than the next closest cybersecurity competitor. Strategic shifts in Fortinet's R&D investments have already resulted in the following major product launches and enhancements in 2023:
Secure Networking: Fortinet made significant strides in network security and secure connectivity innovation, particularly in the evolution of NGFW to Hybrid Mesh Firewall. Fortinet introduced the Security Processor 5 (SP5) ASIC to accelerate networking and security convergence across network edges with the introduction of new higher-performance FortiGate 90G, FortiGate 120G, and FortiGate 900G appliances. ASICs continue to showcase Fortinet's dedication to sustainability, providing customers with power efficient products with a smaller footprint to minimize environmental impact. Notably, a Forrester Total Economic Impact (TEI) analysis revealed substantial ROI and payback for enterprise data centers utilizing FortiGate appliances with FortiGuard AI-powered security services deployed as a Hybrid Mesh Firewall. Fortinet also announced newer switches to deliver intelligent, scalable connectivity that seamlessly integrates with AIOps to simplify network operations.
Universal SASE: Fortinet introduced innovations across SD-WAN and SSE to ensure secure access for hybrid workforces across the internet, SaaS, and private applications. In 2023, Fortinet expanded its network reach to over 100 global locations through strategic partnerships with providers such as Google Cloud and investments in Fortinet's own SASE locations. These innovations prioritize unified management and end-to-end digital experiences, enabling automated operations and network visibility for Fortinet customers. For existing SD-WAN clients, Fortinet enabled seamless integration with FortiSASE to provide secure private access to a broader range of applications. Fortinet also introduced enhancements across ZTNA, DLP, and inline-CASB, reinforcing the company's commitment to supporting customers in achieving a Zero Trust security posture for all applications and data. In addition, Fortinet recently expanded its flexible consumption model using FortiFlex to extend AI-powered security services across today's hybrid environments.
Security Operations: In 2023, Fortinet announced enhancements across its security operations portfolio to introduce tighter integration and improve its ability to automate detection and response, accelerating discovery and remediation. Significant updates included new AI and machine learning capabilities and additional real-time response and automation capabilities to improve efficacy, increase effectiveness, and accelerate time to resolution of sophisticated attacks. In addition to technology, an expanded set of FortiGuard expert services, including SOC-as-a-Service, were introduced to uplevel the skill and efficiency of SecOps people and processes.

Fortinet's investments in R&D are complemented by strategic shifts in its GTM investments that will also be centered around Secure Networking, Universal SASE, and Security Operations. Sales will be organized around these three strategic areas, enabled by training and marketing support, to ensure enhanced market penetration and improved customer engagement.
Additional Resources
About Fortinet 
Fortinet (NASDAQ: FTNT) is a driving force in the evolution of cybersecurity and the convergence of networking and security. Our mission is to secure people, devices, and data everywhere, and today we deliver cybersecurity everywhere you need it with the largest integrated portfolio of over 50 enterprise-grade products. Well over half a million customers trust Fortinet's solutions, which are among the most deployed, most patented, and most validated in the industry. The Fortinet Training Institute, one of the largest and broadest training programs in the industry, is dedicated to making cybersecurity training and new career opportunities available to everyone. FortiGuard Labs, Fortinet's elite threat intelligence and research organization, develops and utilizes leading-edge machine learning and AI technologies to provide customers with timely and consistently top-rated protection and actionable threat intelligence. Learn more at https://www.fortinet.com, the Fortinet Blog, and FortiGuard Labs. 
FTNT-O 
Copyright © 2023 Fortinet, Inc. All rights reserved. The symbols ® and ™ denote respectively federally registered trademarks and common law trademarks of Fortinet, Inc., its subsidiaries and affiliates. Fortinet's trademarks include, but are not limited to, the following: Fortinet, the Fortinet logo, FortiGate, FortiOS, FortiGuard, FortiCare, FortiAnalyzer, FortiManager, FortiASIC, FortiClient, FortiCloud, FortiMail, FortiSandbox, FortiADC, FortiAI, FortiAIOps, FortiAntenna, FortiAP, FortiAPCam, FortiAuthenticator, FortiCache, FortiCall, FortiCam, FortiCamera, FortiCarrier, FortiCASB, FortiCentral, FortiConnect, FortiController, FortiConverter, FortiCWP, FortiDB, FortiDDoS, FortiDeceptor, FortiDeploy, FortiDevSec, FortiEdge, FortiEDR, FortiExplorer, FortiExtender, FortiFirewall, FortiFone, FortiGSLB, FortiHypervisor, FortiInsight, FortiIsolator, FortiLAN, FortiLink, FortiMoM, FortiMonitor, FortiNAC, FortiNDR, FortiPenTest, FortiPhish, FortiPlanner, FortiPolicy, FortiPortal, FortiPresence, FortiProxy, FortiRecon, FortiRecorder, FortiSASE, FortiSDNConnector, FortiSIEM, FortiSMS, FortiSOAR, FortiSwitch, FortiTester, FortiToken, FortiTrust, FortiVoice, FortiWAN, FortiWeb, FortiWiFi, FortiWLC, FortiWLM and FortiXDR. Other trademarks belong to their respective owners. Fortinet has not independently verified statements or certifications herein attributed to third parties and Fortinet does not independently endorse such statements. Notwithstanding anything to the contrary herein, nothing herein constitutes a warranty, guarantee, contract, binding specification or other binding commitment by Fortinet or any indication of intent related to a binding commitment, and performance and other specification information herein may be unique to certain environments. 
This press release contains forward-looking statements that involve risks and uncertainties that may cause actual future results to differ from the forward-looking statement. These forward-looking statements include all statements regarding future results and predictions, such as any indications related to future market share gains, statements regarding any new focus or strategy accelerating Fortinet's business expansion, guidance and expectations around future financial results, statements regarding the momentum in our business and future growth expectations, any statements regarding our market opportunity and market size, and business momentum. Although we attempt to be accurate in making forward-looking statements, it is possible that future circumstances might differ from the assumptions on which such statements are based such that actual results are materially different from our forward-looking statements in this release. Important factors that could cause results to differ materially from the statements herein include the following: general economic risks, including those caused by economic challenges, a possible economic downturn or recession and the effects of inflation or stagflation, rising interest rates or reduced information technology spending; instability in the global banking system; supply chain challenges due to the current global environment; negative impacts from the ongoing war in Ukraine and its related macroeconomic effects and our decision to reduce operations in Russia, as well as the war in the Middle East; competitiveness in the security market; the dynamic nature of the security market and its products and services; specific economic risks worldwide and in different geographies, and among different customer segments; uncertainty regarding demand and increased business and renewals from existing customers; uncertainties around continued success in sales growth and market share gains; uncertainties in market opportunities and the market size; actual or perceived vulnerabilities in our supply chain, products or services, and any actual or perceived breach of our network or our customers' networks; longer sales cycles, particularly for larger enterprise, service providers, government and other large organization customers; the effectiveness and productivity of our salesforce and failure to convert sales pipeline into final sales; risks associated with successful implementation of multiple integrated software products and other product functionality risks; risks associated with integrating acquisitions and changes in circumstances and plans associated therewith, including, among other risks, changes in plans related to product and services integrations, product and services plans and sales strategies; sales and marketing execution risks; execution risks around new product development and introductions and innovation; litigation and disputes and the potential cost, distraction and damage to sales and reputation caused thereby or by other factors; cybersecurity threats, breaches and other disruptions; market acceptance of new products and services; the ability to attract and retain personnel; changes in strategy; risks associated with management of growth; lengthy sales and implementation cycles, particularly in larger organizations; technological changes that make our products and services less competitive; risks associated with the adoption of, and demand for, our products and services in general and by specific customer segments, including those caused by competition and pricing pressure; excess product inventory for any reason, including those caused by the effects of increased inflation and interest rates in certain geographies and the wars in Ukraine and the Middle East; risks associated with business disruption caused by natural disasters and health emergencies such as earthquakes, fires, power outages, typhoons, floods, health epidemics and viruses, and by manmade events such as civil unrest, labor disruption, international trade disputes, international conflicts such as the wars in Ukraine and the Middle East or tensions between China and Taiwan, terrorism, wars, and critical infrastructure attacks; tariffs, trade disputes and other trade barriers, and negative impact on sales based on geo-political dynamics and disputes and protectionist policies; any political and government disruption around the world, including the impact of any future shutdowns of the U.S. government; and the other risk factors set forth from time to time in our most recent Annual Report on Form 10-K, our most recent Quarterly Report on Form 10-Q and our other filings with the Securities and Exchange Commission ("SEC"), copies of which are available free of charge at the SEC's website at www.sec.gov or upon request from our investor relations department. All forward-looking statements herein reflect our opinions only as of the date of this release, and we undertake no obligation, and expressly disclaim any obligation, to update forward-looking statements herein in light of new information or future events.
A photo accompanying this announcement is available at https://www.globenewswire.com/NewsRoom/AttachmentNg/35b7af75-0647-4ac6-a88b-fb19e48d5355